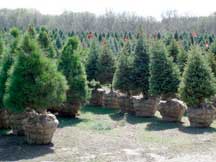 As in many things, burlap usage is as varied as the imagination. Over the years our customers have shown this to be true with their innovative ideas.
We have sold burlap for wiping squares, squared to tie up tree roots and squares to line animal cages.
In windy environments burlap is hung to create a snow fence. Gardeners wrap and protect delicate plants in winter. One enterprising person used burlap "tea bags" to steep goat manure in water for fertilizer.

If you like decorative lawn and fence ornaments like lion head gate posts, be sure to buy from the manufacturer who used a burlap membrane in his mix.
Whether it is wallpaper, gold pan bags or binding in furniture we would love to hear your ideas.